Meet the Gallaghers of Harmony Harbor!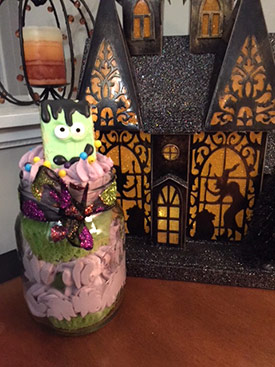 Welcome to Harmony Harbor Hot Topics with Kitty!
I apologize for the name. It was my cousin Nell's idea. She's on the Christmas, Colorado page and her topics are much more likely to be hot than mine. But when I mentioned the name to my friends in the Widows Club, they thought I should keep it. They've promised to provide me with material. Which I admit is a little worrisome. My best friend Rosa DiRossi seemed particularly thrilled at the idea.
But I can't worry about that today. We're in full Halloween mode here at the manor. We've always been a popular place with the locals at Halloween, but this year it's gotten completely out of hand. I've been told it's because the manor reminds people of the house in a new Netflix show, The Haunting of Hill House. There also seems to be a rumor running rampant in town that the manor is haunted by the ghost of my mother-in-law, Colleen Gallagher. Like I keep trying to tell everyone, if Mother Gallagher were haunting the manor, I'd . . . Oh my, a book just fell off the shelf. And there goes another one. I don't understand what's . . . Mother Gallagher, is that you?
I'm just being silly. All this Halloween nonsense has gone straight to my head. But you know, I should probably go help in the kitchen. We're making Frankenstein Cupcakes in Mason Jars. All you need to do is tint a white cake mix green, make cupcakes following directions on the pkg, and then make purple icing and a little green icing. In an 8oz mason jar, you layer a cupcake and then pipe in purple icing, continuing until you reach the top and fill with icing. Then top with a cute Frankenstein cookie made by spreading green icing on a social cookie, decorating with black icing and candy eyes.
Happy Halloween! I'll see you in November with tips for a stress-free holiday . . . I just received a text from Rosa who suggested that I do tips for spicing up your holidays. I hope she's talking about food. 
Coming Next!