Wedding Bells in Christmas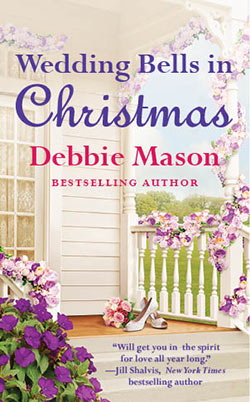 May 2015
To have and to hold from this day forward
Wedding bells are ringing in the charming town of Christmas, but not for Vivian Westfield. She's just had her heart trampled under the cowboy boots of Chance McBride and lost her dream job at a big-city newspaper. But when she returns for a wedding, she stumbles on a story that could resurrect her career. First, though, she'll have to deal with the handsome man standing in her way . . . and a still-burning flame that's too hot to ignore.
Chance recognizes trouble when he sees it. He just didn't expect to find it in the first-class cabin on the flight home for his father's wedding. Yet there she is, as gorgeous as ever. Vivi dared Chance to want things he knew he could never have. It's why he left her. But Christmas's meddling matchmakers have them firmly in their sights. So if they want to survive the next week, they'll have to play the part of an adoring couple-an irresistible charade that may give them a second chance at the real thing . . .
BUY THIS BOOK
What People Are Saying
"I loved this book. For me, it was the perfect example of small-town contemporary done right. It's definitely going on my Top Ten Books of 2015 list."
~ SimplyAngelaRenee.blogspot.com
"I completely enjoyed visiting Christmas again. This novel is full of rich, full-flavored characters with a story line that never lets up and keeps you turning page after page to discover what happens next. I would definitely recommend this story to anyone who wants an intense, involved story that brings in the entire town for the celebration of two people falling in love."
~ KeeperBookshelf.com
"What a joy to visit Christmas, Colo., again! Romance readers will absolutely love this story of matchmaking and passion rekindled. Wedding Bells in Christmas is the very definition of a well-fought-for HEA."
~ RT Book Reviews
"Family, small town dynamics, heartache, guilt, suspense, healing, matchmaking, passion and true love combine to give readers a story they will want to read over and over again. Fans of this series will also enjoy revisiting the characters from the previous books. However, it can be read as a standalone. It is the first of this series that I have read and I had no problem understanding the storyline. But I must admit that it left me with a craving to read the rest of the series. If you enjoy a story told with heart, humor and heat, pick up a copy of WEDDING BELLS IN CHRISTMAS today!"
~ Romance Junkies
"As with the first three books, in Wedding Bells in Christmas, Mason once again brings us an emotional journey with sizzle, humor and a thread of suspense. Her quirky supporting cast keep things lively and always leave me excited for my next visit to this small mountain town. Her main characters are complex, realistic and deserving of their happy ever afters, even if there are times during their journeys when I want to whack them upside the head - another testament to how real they are."
~ The Romance Dish
"If you're familiar with this series, you'll find Chance and Vivi's story an excellent addition to it. If you're not, this one is a great place to start. It's not just romance. It's grief and mourning, guilt and truth, second chances and revelations. And it's perfect for anyone who loves series romances, second chance romances, or contemporary small town romances."
~ Written Love Reviews
"I'm telling you right now, if you haven't yet read a book by Debbie Mason you don't know what you're missing. Her Christmas, Colorado Series is so good. It's full of great characters, fun humor and at times some very touching moments."
~ Romancing the Reader
". . . I highly recommend Wedding Bells in Christmas by Debbie Mason to everyone. It's adorable and hot, a very fun read overall, with a great community that drags you right in."
~ Harlequin Junkie
"Exciting, funny and heartwarming!"
~ Nelle's Night Stand
". . . I have to say that I was blown away by simply how great this book was. It kept me gripped all the way through."
~ Cara's Book Boudoir
"A beautiful and intense story, with just the right amount of suspense."
~ Roberta's Dream World