Welcome to Christmas, Colorado News with Nell!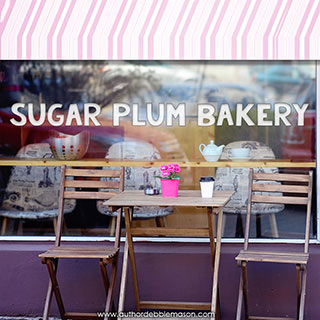 And a warm welcome to Grace Flaherty, the owner of Sugar Plum Bakery!
Thanks for joining us on News with Nell, Grace. I know you're busy getting ready to kick off the Christmas in July celebrations this weekend, so we won't keep you long. I just thought it would be nice for readers to catch up with you. Can you believe yours and Jack's book, CHRISTMAS IN JULY, came out five years ago? Here's a little snippet to jog your memory.
"Till death do us part.
Grace Flaherty, owner of Sugar Plum Bakery, tried to drown out the wedding vows she couldn't get out of her head by humming a song. Her breath hitched when she recognized the melody—"Amazed," her and Jack's song. It was as if he knew what she was going to do and tried to stop her. A warm spring breeze wafted through the screen door, and she closed her eyes, letting its soft caress soothe her aching heart.
Today was her husband's thirty-fifth birthday, and the day Grace said good-bye to him."
I'm so glad this isn't live, Nell. You made me cry! Just give me a sec. Grace wiped her eyes. I remember exactly how I felt that day.
Like your life as you knew it was over?
Grace nodded. In a way it was. Those first few weeks after Jack came home weren't easy, as you and everyone in Christmas knows, but I wouldn't change a single moment of them. Not in a million years. It made us the couple we are today. And the parents. Can you believe Jack Junior is nine? We're not allowed to call him Little Jack anymore.
I can see why. That boy is going to be as tall as his father. You're lucky though, he's not as wild as he used to be. Do you remember what he got up to when Jill and Sawyer looked after him a few years back?
Grace laughed. He was complaining about Gillian the other day, so Jack took out Jill and Sawyer's book, HAPPY EVER AFTER IN CHRISTMAS, and read the parts about him. I'm not sure it worked though. He was pretty impressed with himself. He told Sawyer and Jill that if it wasn't for him, they wouldn't be together.
He might just be right about that. And for you readers who don't know, Grace and Jack's daughter, Gillian, is two and cute as a button. She's also as wild as Jack Junior used to be.
I think she might be worse. Thank goodness for Max, our four-year-old. He doesn't give us any trouble at all.
I seem to remember his father was the same until he hit his teens.
So Jill likes to remind us.
I predict Sawyer and Jill's new little guy will give them a run for the money. The kids must be happy to have another cousin.
Absolutely thrilled, which reminds me, I promised I'd bring them to Jill and Sawyer's for a visit and a swim in the lake before I have to get back to the bakery to help get organized for tonight's parade. Did Chloe tell you she wants everyone on their floats by 8?
She did. Five times. You go, and thanks again for dropping by, Grace. Same to all of you. And if you'd like to read the entire first chapter of CHRISTMAS IN JULY, it's available on the website. Just click on CHRISTMAS, COLORADO in the header and that will take you to the page where you can access excerpts for each book in the series.
'Till next time, Happy July and Happy Reading!
Nell xo