Welcome to Christmas, Colorado News with Nell!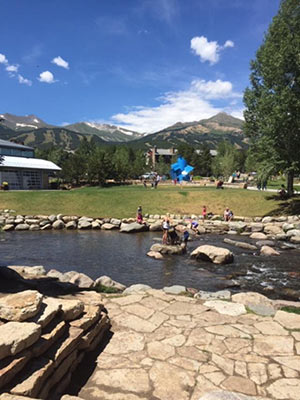 We're gearing up for a busy weekend here in Christmas. Sawyer Anderson, you might remember him from CHRISTMAS IN JULY and HAPPY EVER AFTER IN CHRISTMAS, is a local boy who made it big in the NHL. He's handsome as all get out too, and married to our sheriff, Jill Flaherty. They have a little one with another one on the way.
Anyhoo, Sawyer owns the local sports bar, the Penalty Box, and he's hosting this weekend's BBQ and Beer Festival at the park. It's perfect timing with Father's Day this Sunday. Fifty craft breweries will be showcasing their beers with tastings, gourmet food trucks will be providing the eats, and a local band will be providing the entertainment. Since it's a family affair, there'll also be games for the kids. My great-nephews, along with Christmas's former mayor Ethan O'Connor, are hosting a fishing derby in the creek.
Two people the festival's timing might not be perfect for are Jill and Sawyer. Today is their baby's official due date. So Holly and Hailey, owners of the Rocky Mountain Diner, have offered to take on co-hostess duties. But don't think their offer is entirely from the goodness of their hearts. Sure, they love Jill and Sawyer like everyone else in town, but trust me, those two girls have an ulterior motive—they're looking for love. And you know what, I wouldn't be surprised if they find it. I met a couple of the brewery owners earlier this morning and several of those boys are single. Lookers too.
But there's someone else who'll miss out on the festivities if Sawyer and Jill's baby decides to make its appearance on Sunday--my nephew Paul. He's the head of Christmas General, and he's covering for the resident OBGYN this week. But he'd be by Jill's side for the delivery even if he wasn't.
Jill lost her parents when she was young, and she's come to look at Paul as a surrogate father. It's a role my nephew is well suited for. He's the most caring and empathetic man I know. If you don't believe me, just ask his three sons, step kids, their significant others and grandkids. And if you don't believe them, drop by his study and check out the plaques on his wall. He's won Christmas's Father of the Year eight years running. Word has it he's won again, but this time he had some competition from his sons and stepson.
Hang on, I just got a high priority e-mail. Well what do you know. Sawyer and Jill have been spotted en route to the hospital with an escort from the acting sheriff and his K9 partner, Zeus. I'm going to head over to the hospital now, so check back here next month for an update.
Have a happy June and be sure to celebrate the fathers in your life this weekend!
Nell xo