Welcome to Harmony Harbor Hot Topics with Kitty!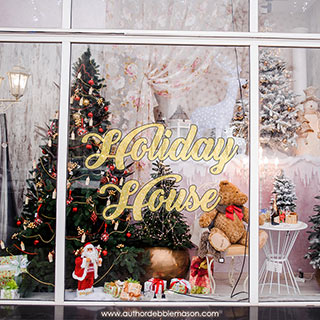 We're kicking off this month's column with some happy news. My son Colin, Harmony Harbor's Fire Chief, proposed to Maggie Stewart, the incredibly talented artist who owns the gallery in town on her birthday, and she said . . . yes! It was a very romantic and emotional proposal. And yes, I was there as were the rest of the family.
We weren't with them the entire time though. Colin had planned a special birthday date for Maggie that started in the morning at Books and Beans. It's where they first met, and to this day they head there every Saturday for coffee and to peruse the bookshelves. Colin turned their date into something of a treasure hunt. The coffee table book he gifted Maggie with had a piece of paper with a clue that led them to the next location that held a special meaning to them, and another present for Maggie.
It wasn't until nine that evening that they arrived at Kismet Cove, where we were waiting for them on the beach. We couldn't have ordered a more perfect night. There was a light breeze coming off the ocean and the sky was blanketed with stars. I don't think Maggie had any idea what was about to happen until Colin let go of her hand and joined his sons.
As soon as Colin started to sing "Marry Me" by Train, Maggie started to cry. She cried even harder when Griffin, Aidan, Finn, and Liam joined in. It was a beautiful night, one none of us will forget. Although Colin's daughters-in-law have vowed that the wedding will be out of this world. Knowing those four women as well as I do, I don't doubt it. And I couldn't be happier for Colin and Maggie. There's no two people more deserving of a happy ever after than them. If you've read the Harmony Harbor series, you'll understand what I mean.
Now, moving on to a not so happy piece of news. Last month I promised you a recipe from The Pie Guy, also known as Marco DiRossi, but I'm afraid I have failed in my mission. But Debbie promised me that she'll be posting a pizza on her Facebook page next week during the Christmas in July event—July 22nd -July 26—so be sure to stop by and check it out. There are giveaways too, and Evie Christmas will be sharing holiday tips.
I'm hoping she'll also share a little snippet from her and Caine's book, CHRISTMAS IN HARMONY HARBOR, with you. But don't worry if she doesn't, I'll share one here next month. And you can read the first chapter on the website. All you have to do is click on Harmony Harbor above, and it'll take you to the series page where the excerpts for all the books are available.
Until next month, Happy July and Happy Reading!
Kitty xox