Welcome to Harmony Harbor Hot Topics with Kitty!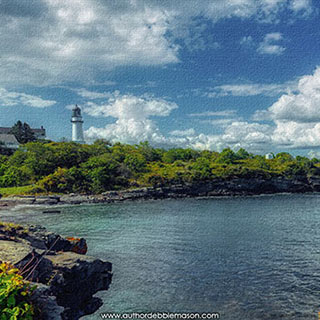 Happy Father's Day Weekend, dear readers! As you can imagine, it's a busy time of year here at Greystone Manor with most of the outdoor activities in full swing, not to mention it's wedding season. But we always manage to find some private time with our family on Father's Day.
The early part of the day is devoted to ensuring Father's Day brunch at the manor goes smoothly. It's so popular we have five seatings, with the last wrapping up at two, so our celebrations with the family begin around five.
This year, we're having a New England Style Crab Boil on the beach at Kismet Cove. If you've never had a crab boil, you're missing out. Spicy sausage, shrimp, crab, red potatoes, and corn are cooked in a broth over a wood fire, and it's simply delicious. Our family has grown so much, we'll need at least two bonfires and two cauldrons. We'll also need several newspaper-lined picnic tables.
Rosa DiRossi and her grandson Marco have volunteered to look after the boil and the rest of the meal. I hear coleslaw and watermelon cucumber salad are also on the menu, followed by fruit pies and crumbles, which all sound divine. But I must admit I was hoping Marco would bring us a sample of his newest line-up of pizzas from his food truck, The Pie Guy, as an appetizer. Alas, it's not to be. I'm positive Rosa found out I was going to share with you here and didn't want their secrets getting out.
Never fear, I have a few tricks up my sleeve. I know just the woman to soften up Marco, and one way or another, I'll have at least one pizza recipe to share with you next month. Now I have to head to the harbor as my son Colin is being honored as Harmony Harbor's Father of the Year in an outdoor ceremony. This is a new event started by our mayors, Arianna and Connor Gallagher. Yes, they are family, but that in no way means nepotism was at play.
Colin has been the fire chief at HHFD for decades, and he's beloved by everyone in Harmony Harbor. You couldn't find a better father or man than my son. Truly, all you have to do is read the books written about our town and family, and you'll discover for yourself just how wonderful he is. But I should warn you, he's already taken.
Maggie Stewart, an incredibly talented artist who owns the gallery in town, has won his heart. Colin doesn't know it, but Maggie will be presenting him with a portrait she did of him and his sons, their wives, and his grandchildren at today's ceremony. And here, as my cousin Nell from Christmas, Colorado would say, is your inside scoop. Last week, Colin went shopping for . . . a ring! That's right, he's planning to propose to Maggie on her birthday.
Jasper just poked his head in the study to tell me it's time we were on our way, so I have to go. I'll let you know if Maggie accepts Colin's proposal next month.
Have a wonderful weekend celebrating the fathers in your lives!
Kitty xox