Welcome to Christmas, Colorado News with Nell!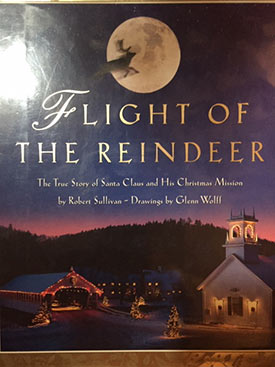 Happy Holidays from everyone here in Christmas! This is our time of year, folks, and let me tell you, do we know how to celebrate. This morning I'm working at my mystery book shop, Femme Fatale, before heading over to Santa's Village and my holiday gig as Mrs. Claus. I'm hoping at least one or two of our famous Christmas couples will drop by the shop this morning so I can ask about their favorite holiday tradition. Perfect. She's not actually half of a famous couple, but the daughter of one. Though, I wouldn't be surprised if one day . . .
Welcome home, Annie! You're just the girl I hoped to see. Fans of the Christmas, Colorado books want to know what is your family's favorite holiday tradition?
Annie, after a hug and kiss for her great-great-aunt: Mom is as bad as you, Aunt Nell. There isn't a tradition she doesn't love. But they wait for me to go cut down the tree and decorate, so I'll go with that. I think for Dad, it's finding a special book to read to us on Christmas Eve. That's actually why I stopped in, I was going to surprise him with a book this year. Do you have a recommendation?
I do indeed. FLIGHT OF THE REINDEER by Robert Sullivan. It might be a little old for the boys right now, but you girls and your dad will love it.
Annie: I'll take it, and then I have to run. But I'll stop by to see you at Santa's Village with the boys and, in case you're wondering, that's my favorite tradition. Lily's too. And the Parade of Lights. I was disappointed I had to miss it this year. Now, please tell me you're hosting Christmas dinner.
As far as I know, your grandpa Paul and Liz are. There's so many of us now, they're hosting it at the ranch.
Annie: Auntie Skye isn't making tofu turkey again, is she?
Ethan told her loves it so much, he doesn't want to share. So they'll have a special dinner just with their family the next day. It's become something of a holiday tradition for them. Make sure you stop by the town hall. They're announcing the winner of the Gingerbread House Contest at two.
Annie: For sure. That's another of our favorite holiday traditions I had to miss this year. I wasn't home in time to enter.
You ever think of moving back home? You love Christmas, the holiday and the town, as much as me. I could use a Christmas helper.
Annie: Umm, I . . . I have to go. See you later, Aunt Nell.
Well, that was interesting. I have a feeling Annie's hiding something from me. Good thing I love a good mystery and have lots of time to solve it with Annie home for the holidays. In case you're wondering, I have too many favorite holiday traditions to list, but they have one thing in common—spending time with the people I love. My wish for you this holiday season and the New Year is that you're surrounded by the love of family and friends. I'll be back next year with more news from Christmas! xox