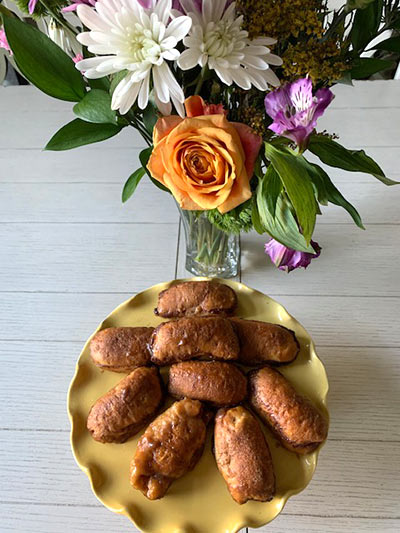 Bri's Apple Dumplings
Ingredients:
*This recipe makes 20 dumplings. You can cut ingredients in half if you just want 10.
4 medium apples
2 cans (8oz) refrigerated Pillsbury biscuits (10 in each)
1 ½ cups melted butter
1 cup packed brown sugar
1 cup white sugar
2 tsps. cinnamon
Half a lemon
1 cup water
1 1/3 cup of Mountain Dew or Sprite
Directions:
Heat oven to 350 F. Spray 2 13x9 inch pans with cooking spray.
Peel and core apples; cut into thin slices.
Fill bowl with cup of water, add juice from half of lemon, then add apples slices. Let apples sit in lemon water for ten minutes then drain and set aside.
Remove biscuits from containers and roll each one out. Place three thin apple slices at one end and then roll to opposite end. Pinch ends together and then place in pan.
Melt butter in microwave, add brown, white sugar, and cinnamon, and then stir to combine. Pour mixture evenly over dumplings in both pans.
Pour soft drink in center of pans. Do not pour directly onto dumplings.
Bake for 35 minutes or until golden brown. Let stand for 15 minutes.