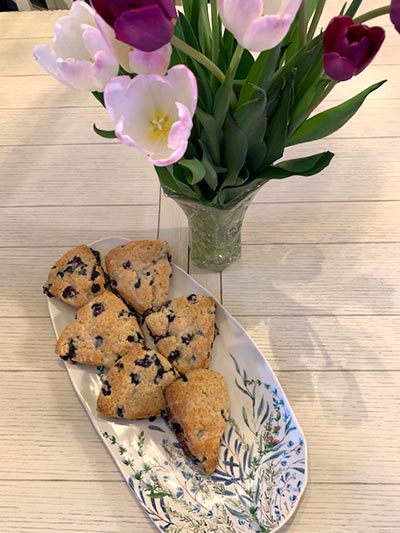 Blueberry Scones
Ingredients:
2 cups all-purpose flour
1/2 cup granulated sugar
2 1/2 tsps baking powder
2 tsps cinnamon
1/2 cup cold butter
1/2 cup heavy cream (plus 2 tbsps for brushing)
1 egg
2 tsps vanilla
1 cup blueberries fresh (don't thaw if using frozen)
coarse sugar for topping
Vanilla Icing
1 cup powdered sugar
3 tbsps milk
Directions:
In a large bowl, whisk floor, sugar, baking powder, and cinnamon. Cut cold butter into flour mixture (small pieces) and then combine using pastry cutter, two knives, or fingers until mixture resembles pea-size crumbs. Place in refrigerator while preparing wet ingredients.
In a separate bowl, whisk heavy cream, egg, and vanilla. Remove dry ingredients from refrigerator and drizzle wet ingredients over it and then add blueberries. Mix together until dough is moistened. Flour your hands and work the dough into a ball. Don't overwork. The dough will be sticky.
Place dough on parchment-lined baking sheet and flatten into a disc. Brush dough with heavy cream, sprinkle coarse sugar on top, and then place pan in freezer for 10-15 minutes.
Preheat oven to 400 F
Remove pan from freezer and cut dough into wedges, placing a couple of inches apart on baking sheet.
Bake for 22-25 minutes or until scones are golden brown on edges and light brown on top. Remove from oven and cool.
Mix milk into powdered sugar 1 tbsp at a time until the vanilla icing is the consistency you want. Once the scones have cooled for a few minutes, drizzle with icing, serve, and enjoy!