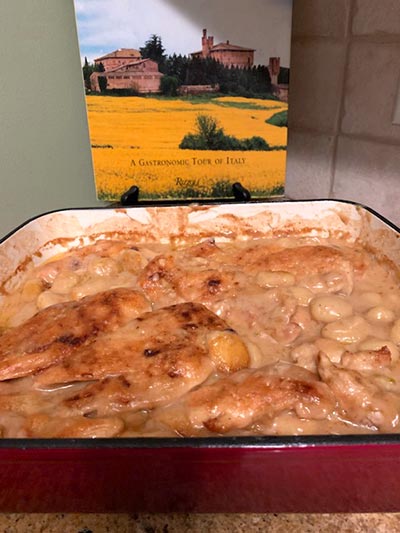 Chicken and Gnocchi
(Tastes better than it looks)


Serves 6-8
9 x 13 pan
Ingredients:
4 cups homemade or store-bought gnocchi
4 boneless, skinless chicken breasts, cut in half horizontally, pounded
Salt & pepper to taste
3 tablespoons of butter
5 tablespoons of butter
1 medium shallot, diced
5 cloves of garlic, minced
6 tablespoons all-purpose flour to coat chicken breasts
1/2 cup all-purpose flour
2 ½ cups chicken broth
½ cup white wine
1 cup half and half
3 cups baby spinach, torn into bite-sized pieces (I forgot this and it makes a difference to eye appeal;)
½ cup Parmesan cheese
Instructions:
Preheat oven to 375 degrees F.
In a large pot of boiling salted water, cook gnocchi for 5 minutes or until they rise to the top, then drain.
Pound chicken breasts, lightly salt and pepper, then lightly coat in all-purpose flour
Melt 3 tablespoons butter in large, deep skillet over medium heat (I use electric frying pan set at 350 degrees F.)
Working in batches, add chicken to skillet in a single layer and cook until golden brown, about 7 minutes per side; set aside in single layer in 9" x13" pan.
Melt 5 tablespoons butter. Add diced shallot, cook and stir until tender, about 5 minutes. Stir in minced garlic until fragrant, about 1 minute.
Whisk in ½ cup of all-purpose flour, stirring until lightly browned, about 2 minutes.
Gradually whisk in chicken broth and wine, whisking constantly until slightly thickened, about 5 minutes. Stir in half and half until thickened, about 3 minutes.
Stir in gnocchi and spinach, cook and stir until spinach has wilted, about 2 minutes.
Pour gnocchi, spinach, and cream sauce over chicken in pan, then sprinkle with Parmesan.
Place in oven and bake for 20-25 minutes. Enjoy!