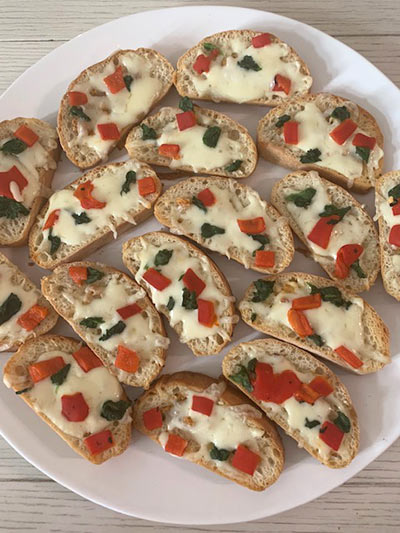 Christmas Ciabatta Bread
Ingredients:
Loaf of Ciabatta bread, sliced evenly (20 pces)
½ extra light olive oil
3 garlic cloves minced
1/2 tsp salt
1 tsp oregano
½ tsp crushed red pepper flakes
½ cup chopped roasted red peppers
1/3 cup frozen chopped spinach, thawed (dry between paper towels)
1 ½ cup grated mozzarella cheese
Instructions:
In a small saucepan, heat oil at medium heat. Add garlic, cook for 2-3 minutes. Remove from heat and stir in salt, oregano, and crushed red pepper flakes. Cool.
Preheat oven to 400. Place bread on parchment-lined baking sheet(s) and bake until golden brown, approximately 7 minutes.
Brush bread with oil mixture. Top with mozzarella cheese, then add pieces of roasted red pepper and spinach to each slice. Bake until cheese is melted, approximately 5 minutes. Serve right away. Enjoy!