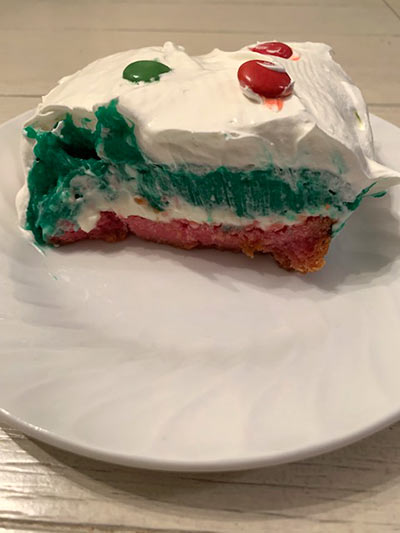 Christmas Dessert Lasagna
Ingredients:
Shortbread Bottom:
1 cup butter, softened
2 cups flour
1/2 cup icing sugar
Red food coloring
Cream Cheese Layer:
2 pkgs cream cheese, softened
2 cups icing sugar
2 cups heavy whipping cream
Pudding Layer:
2 boxes instant vanilla pudding, 6 serving size (153 g)
3 cups milk
½ cup white chocolate chips, melted
Green food coloring

Topping:
One container cool whip
Candy to decorate top (I used red and green smarties)
Instructions:
Shortbread layer:
Preheat oven to 350. In large mixing bowl, mix together butter, flour, icing sugar, and droplets of red food coloring until desired color is reached. Press into bottom of greased 9x13-inch baking pan.
Bake for approximately 15 minutes, or until edges are golden brown.
Remove from oven and allow to cool completely before adding fillings.
Cream Cheese Layer:
In a large mixing bowl, beat cream cheese and icing sugar until smooth.
Gradually add heavy cream and whip until stiff peaks form.
Spread evenly on cooled shortbread layer. Place in refrigerate or freezer for 30 minutes until set.
Pudding Layer:
In a large mixing bowl, beat both boxes of pudding and milk until thickened.
Add melted white chocolate chips and beat until blended.
Add green food coloring until desired color.
Spread evenly over pudding layer and place in refrigerator or freezer for 10 minutes.
Topping:
Spread cool whip over green layer and decorate with desired toppings.
Keep in refrigerator until ready to serve. Enjoy!