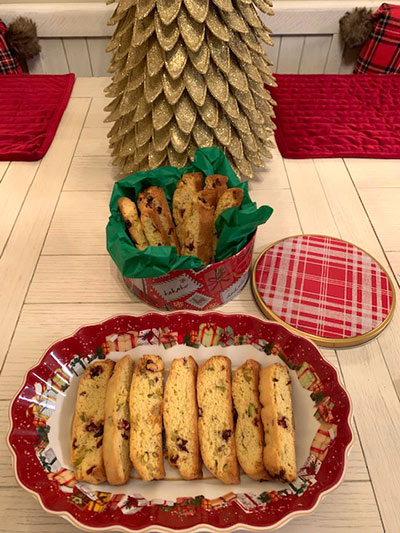 The Rosetti's Pistachio Cranberry Biscotti
(20 biscotti)
Ingredients:
1/3 cup butter, softened
2/3 cup sugar
1 ½ tsp baking powder
2 eggs, lightly beaten
1 tsp vanilla
2 1/4 cups all-purpose flour
1/3 cup pistachio nuts
½ dried cranberries
Instructions:
Preheat over to 350 degrees
Line cookie sheet with parchment paper
*In a medium bowl, combine butter, sugar, and baking powder. Beat until light and fluffy.
*Add eggs and vanilla and beat well.
*Add in flour a little at a time and then fold in pistachios and dried cranberries.
*Divide dough in half and form each into approximately 10"x2" rectangles.
*Bake 25 minutes or until golden brown.
*Remove from oven and cool 20 minutes.
*Cut with a serrated knife into 1 inch slices an angle into and lay flat on parchment-lined baking sheet.
*Bake 12-15 minutes or until browned.
*Remove from oven and cool on wire racks. Enjoy!