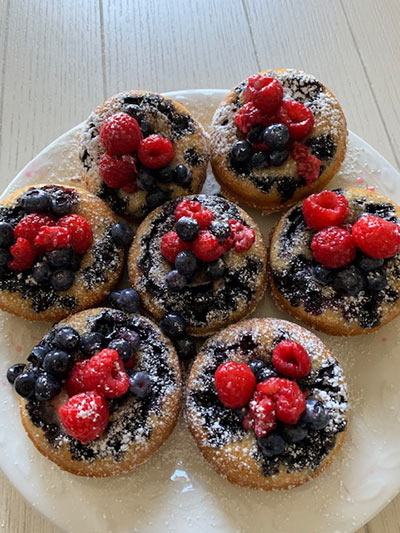 Recipes from Highland Falls
Abby Everhart's Berry Donuts
(adapted from "Women's World" Magazine 08.19)
¾ cups unbleached flour
½ cup granulated sugar
1 tsp. baking powder
¼ tsp. salt
6 Tbs. milk
1 egg
1 Tbsp. melted butter
½ tsp. vanilla extract
6 Tbsp. blueberries
2 Tbsp. sugar
½ cup blueberries
1 cup raspberries
Confectioners' sugar
*Preheat oven to 425 F. Grease 6-cavity donut pan.
In bowl, combine flour, granulated sugar, baking powder, and salt.
Stir in milk, egg, butter and vanilla. Place 1 Tbsp. blueberries in each donut cavity;
dividing evenly, fill cavities with batter. Bake 10-12 minutes until toothpick inserted
into donuts comes out clean. Cool on rack 5 min. Transfer from pan to rack; cool completely.
*In bowl, toss 1 cup raspberries with 1/cup blueberries and 2Tbsp sugar. Let sit at least 20 minutes.
Before serving, divide berry mixture evenly among donut centers. Sprinkle with confectioners' sugar.