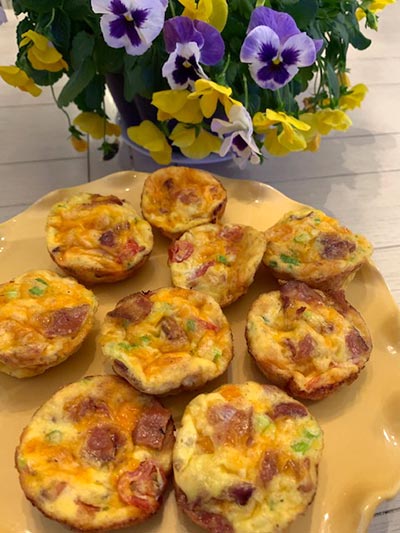 Egg Muffins
Ingredients:
10 eggs
2 tbsps finely chopped yellow onion
Salt and pepper to taste
8 strips of cooked bacon crumbled
12 cherry tomatoes halved or cut into thirds depending on size
1 1/4 cups of grated cheddar cheese
Directions:
Preheat oven to 350F. Lightly spray 12-cup muffin tin with non-stick oil spray.
In a large bowl, whisk together eggs, onion, salt and pepper and then add crumbled bacon, cherry tomatoes, and cheddar cheese.
Pour mixture 2/3 way up into each muffin cup. Bake for 15-20 minutes until set. Let cool slightly and then serve. Enjoy!