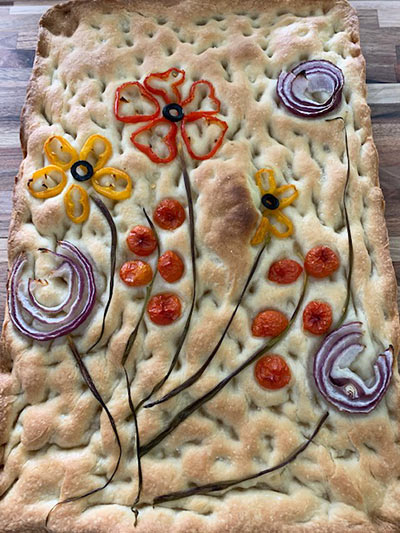 Decorated Focaccia Bread
Ingredients:
2 cups warm water divided into two bowls
1 Tbsp white sugar
2 ½ tsps active dry yeast (1 packet)
¼ cup olive oil
1 tsp salt
1 Tbsp coarse salt (sea salt)
5 cups all purpose flour (or bread flour)
1/2 cup olive oil for baking sheet, save small amount to drizzle over bread after it's risen
Vegetable (and herbs, which I didn't have) toppings to decorate
Instructions:
Day One:
Add yeast and sugar to first cup of warm water, mix to combine. Set aside until foamy.
Place water/yeast mixture in bowl of stand mixer with bread hook—you can also do by hand with bowl and wooden spoon.
Add in 1 cup of flour and mix on low until combined.
Add 2nd bowl of warm water, olive oil and salt and 2 cups of remaining flour. Mix on low until combined.
Continue adding flour, mixing on low, until dough pulls away from sides of bowl. If it's still too sticky, add in a couple more Tbsps of flour until it comes together. The dough should be very soft though.
Keep mixing until your dough bounces back when you touch it. You can finish kneading on floured countertop for a few minutes until dough bounces back.
Place dough into a bowl with Tbsp of olive oil. Cover with plastic wrap or clean tea towel and let rise in warm place for 1-2 hours.
Pour enough oil onto 12" x 17" baking sheet pan (or pan of similar size) so there is a thin layer of oil coating the entire bottom of pan.
Put some olive oil on your hands to prevent sticking, then pull the focaccia dough out of bowl. It will be very loose. Place in pan and begin stretching. You want to make sure the dough is about same thickness at edges as it is in middle so it doesn't burn.
Once you're done stretching, cover with plastic wrap and place in fridge. Leave overnight.
Day Two:
When you're ready to bake your bread, remove from fridge and let it warm on countertop for about 30 minutes.
Preheat oven to 450 degrees.
Once bread dough has warmed, dimple the surface with oiled fingers, then drizzle enough olive oil onto the top of the bread until all the dimples have a little oil in them. Sprinkle with coarse salt.
After your focaccia has risen for 30 minutes, it's time to decorate.
Once your masterpiece is completed, brush your veggies and herbs with more olive oil to prevent burning.
Bake in oven for 20-25 minutes or until focaccia bread is golden brown.