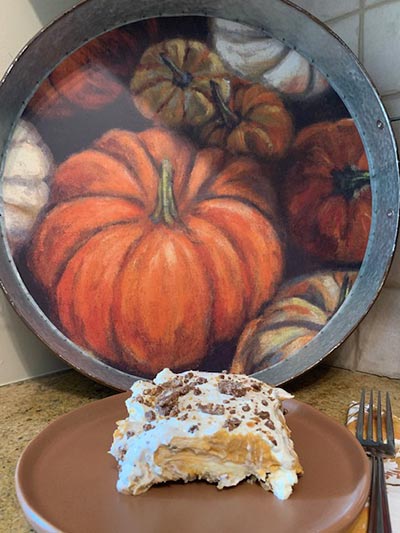 Four-Layer Pumpkin Dessert
(serves 12)
Ingredients:
2 cups all-purpose flour
1 cup butter, softened
1 cup pecans, chopped
12 oz (pkg & half) cream cheese, softened
1 ½ cup powdered sugar
5 cups whipped topping (large container frozen Cool Whip), softened
2 cups milk
3 pkgs (3.5 oz) white chocolate pudding instant
15 oz can pumpkin puree
½ cup chocolate covered toffee bits for topping (I used crushed Skor bar)
Instructions:
Grease 9x13 baking pan
Preheat oven to 350
First layer
Mix flour, butter, and pecans together. Press into bottom of greased 9 x 13 pan. Bake at 350 for 20 minutes, then remove from oven and let cool.
Second layer
Blend cream cheese and powdered sugar together, and then fold in 2 cups of whipped topping. Spread over cooled crust.
Third layer
Blend milk and pudding mixes together, add canned pumpkin, and then fold in 1 cup of whipped topping. Spread over second layer.
Fourth layer
Spread remaining two cups of whipped topping over third layer and sprinkle with chocolate covered toffee bits.
Chill in refrigerator for at least 3 hours or until set. Serve chilled and enjoy!