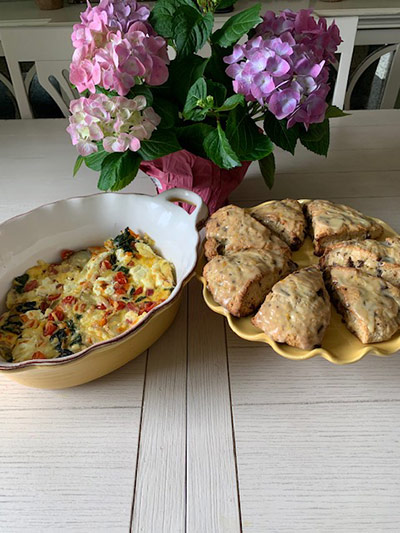 Fritatta
Ingredients:
3 medium potatoes
3 tbsp oil
1 onion, chopped
1 cup pancetta, chopped ( I bought pre-chopped)
1 orange pepper, chopped (You can use any color)
3 cups baby spinach
1 cup red grape tomatoes, halved
Salt
Pepper
8 eggs
½ cup whipping cream

½ cup shredded mozzarella

½ cup feta cheese
Instructions:
Preheat over to 400 degrees. Lightly grease 9" by 13" pan. Pierce each potato all over with fork. Place on microwavable plate. Microwave on high for 4 minutes or until tender. Let cool and then thinly slice.
Heat oil in non-stick frying pan over medium heat. Add onion and sauté for 3 minutes. Add chopped pepper and sauté for 3 minutes. Add pancetta and cook, stirring for 4 minutes or until golden. Add spinach and cook for 1 minute or until spinach is wilted.
Combine onion mixture and tomatoes. Arrange half the sliced potatoes in a single layer in prepared pan and salt and pepper. Top with half the vegetable mixture. Repeat with remaining potato—season with salt and pepper—and vegetable mixture.
Whisk eggs and cream in a bowl. Add mozzarella and feta cheese. Then gently pour egg mixture over vegetable mixture. Bake for 30 to 35 minutes or until egg mixture is set and top golden. Let stand for 5 minutes. Serve and enjoy!