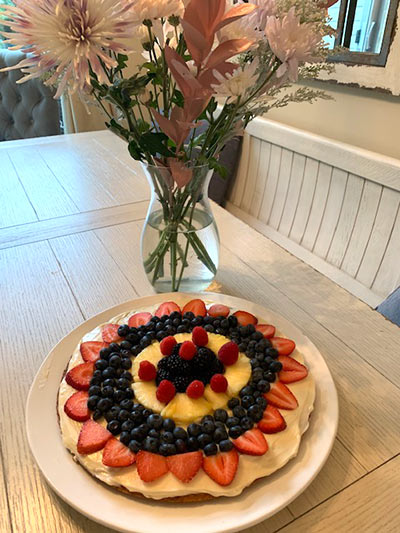 Fruit Pizza
Ingredients:
Sugar Cookie Crust:
2 cups of all-purpose flour
1 1/4 tsp baking powder
1 cup granulated sugar
2/3 cup butter, softened
1 egg
1 tsp vanilla extract
Cream Cheese Frosting:
12 ounces softened cream cheese (1 and ½ bricks)
4 Tbsps softened butter
1 ½ cups icing sugar
1 tsp vanilla extract
Toppings:
You can use any fruit you like (approx. 3 cups)
Instructions:
Crust:
Whisk flour and baking power in medium bowl.
In a large blow, beat the butter and sugar until light and creamy (approx. 5 minutes)
Beat in egg and vanilla. Add flour mixture and beat until combined.
Cover the dough tightly in plastic wrap and chill in refrigerator for an hour.
Preheat oven to 350 degrees.
Grease a 12-inch pizza pan (no holes) with nonstick spray.
Remove chilled dough from refrigerator and press onto the pizza pan.
Bake for 18-20 minutes, or until edges are lightly browned.
Cool completely.
Frosting:
In a medium bowl, beat cream cheese and butter together until smooth, about 5 minutes.
Add the icing sugar and vanilla. Beat for 2 minutes until creamy.
Spread a thick layer on cooked cookie crust.
Decorate with fruit.
Leftovers will keep in refrigerator for up to 3 days. Enjoy!