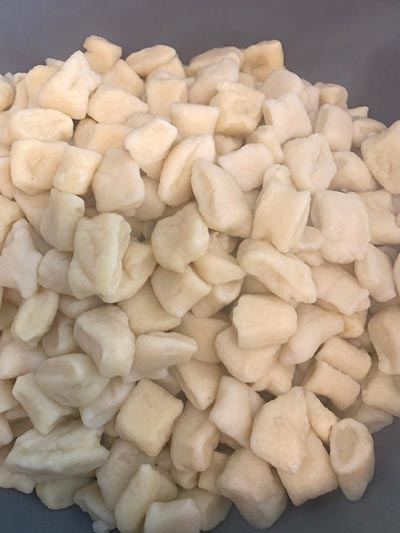 Grandma Jenny's Gnocchi
(Make two batches if serving 10)
Ricer required.
Ingredients:
3 medium potatoes
2 eggs
1 tsp salt
1 ½ cups all-purpose flour (+½ extra cup flour for tossing and coating gnocchi)
Directions:
Wash and dry potatoes, leave skin on, then pierce each potato several times.
Cook potatoes in microwave, 3 minutes per side.
Remove potatoes from microwave and let cool.
In a small bowl mix salt and flour, then make a well.
Rice potatoes into well in flour mixture.
In a small bowl, whisk eggs, then pour over riced potatoes.
Slowly combine flour into egg and riced potatoes. Once combined, knead dough until smooth—approximately 5 minutes.
Roll dough into sausage shape about 8 inches long on board, then cut into 2 inches pieces and roll like a snake. Cut into 1-inch pieces, then toss in ½ cup flour to coat, press and roll each one with forefinger, then spread onto baking sheet and place in freezer. Continue until all dough is used. Once gnocchi are frozen solid, approximately 1 hr, you can place in a zip-lock freezer bag. They should keep in the freezer for one month.
To cook, bring a large pot of salted water to a boil and add gnocchi. When the gnocchi rise to the top, they're ready. Pour into strainer and do a quick rinse with cold water to remove some of the starch, then add sauce. Or in this case, serve with Marry Me Chicken. Enjoy!