Cinnamon Cereal Treat Mummies and Halloween Cake Pops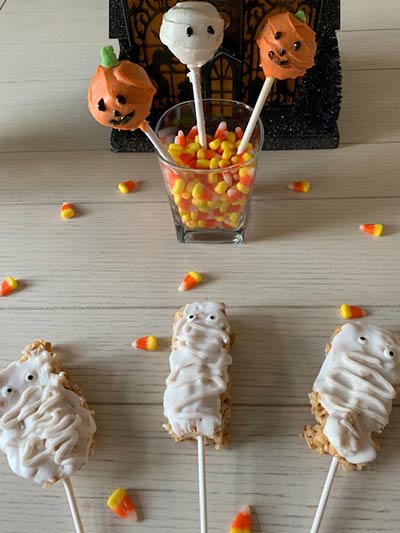 Halloween Treats
Cinnamon Cereal Treat Mummies
(Recipe from Food Network Magazine, October 2019, issue)
Cooking spray
6 tablespoons unsalted butter (I used salted)
1 10-ounce bag mini marshmallows
4 cups cinnamon cereal squares (I used Cinnamon Toast Crunch)
3 cups crisp rice cereal (I used Rice Krispies)
For the icing
2 ½ cups confectioners' sugar
1 tbsp meringue powder (not always easy to find—I found at Michaels)
Black candy-coated chocolates, for decorating (I used black gel and candy eyes)
¼ tsp ground cinnamon.
1. Line a 9-inch square baking dish with foil, leaving a 2-inch overhang on two sides; lightly coat with cooking spray. Melt butter in large saucepan over medium heat. Add the marshmallows and cook, stirring until melted and smooth, about 5 minutes. Remove from heat and stir in both cereals until coated, then press into prepared pan. Let sit at room temperature until firm, about 30 minutes.
2. Make the icing: Whisk 2 cups confectioners' sugar and the meringue powder in a large bowl until combined. Add 4 tbsps. water and beat with mixer on medium-high speed until smooth and the consistency of a thick glaze. Add 1-2 more tbsps. water if icing is too thick. Cover with a damp paper towel and plastic wrap and set aside until ready to use.
3. Lift the treats out of the pan using the foil overhang, then cut into rectangles. Insert a lollipop stick into each. Brush an even layer of icing on the cereal treats with a pastry brush. Add the remaining ½ cup confectioners' sugar and the ground cinnamon to the remaining icing; beat with mixer until thick and pipeable. Transfer to resealable plastic bag and snip a corner. Pipe thin lines on cereal treats to look like bandages and add candies for eyes. Let set, about 5 minutes. 
Halloween Cake Pops
(Recipe from Celebrate! with Women's World, Autumn 2017 issue)
1 pkg yellow cake mix (I used butter pecan. You can use whichever flavor you want)
½ can white frosting
Water, eggs, oil—follow instructions on box
2 pkgs candy melts (I used orange for pumpkins and white for ghost)
40 (8") lollipop sticks
Block of Styrofoam (I used floral foam)
Black candy-coated chocolate for eyes (I used black gel)
Cake Ball Mixture
Preheat oven to 350 F. Coat 13" x 9" baking pan with cooking spray. Prepare cake mix with water, eggs, oil according to package directions. Bake 23-28 minutes or until toothpick inserted into center comes out clean. Cool completely in pan. Crumble cake into bowl. Add frosting on low speed, beat until moistened. Divide into 40 equal portions, about 1 Tbs. each; roll each into a ball. Place on rimmed baking sheet; refrigerate 15 minutes.
Turn Cake Balls Into Pops
Melt ½ cup white candy melts according to package directions. Using lollipop stick, poke hole halfway through 1 cake ball; remove stick. Dip stick into candy; reinsert into hole. Insert into floral foam or Styrofoam. Repeat with remaining sticks, cake balls and candy. Refrigerate until firm, 1 hour. Reserve melted candy.
Dip Pops
Melt candy melts according to instructions. Keeping pops refrigerated when not in use, one at a time, dip pops into melted candy to cover, gently tapping sticks on side of container to remove excess. Dipping pops in melted chocolate didn't work well for me, so I iced with melted chocolate instead. Reinsert into Styrofoam or floral foam. Refrigerate pops until set, 15 minutes.
Decorate Pops
I used black gel to decorate my cake pops and some green-tinted candy melts for the stem on pumpkins, but you can get more creative with yours. Transfer melted candy melts—you can use food coloring to tint, although I find it works better to buy different colored candy melts instead—to small plastic sandwich bag, snip a tiny hole in corner of bag, then pipe hair, eyes, and mouths on your cake balls if you'd like.
**This issue featured Vampire Cake Pops.