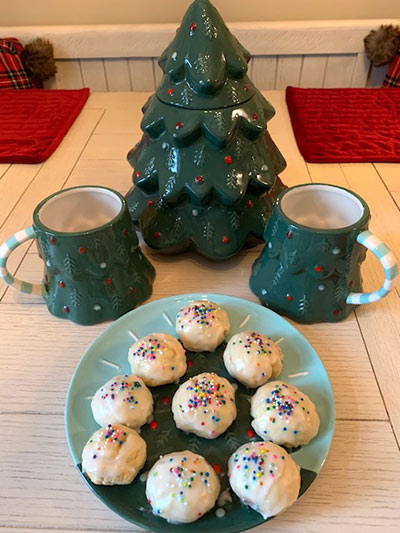 The Rosetti's Italian Christmas Cookies
(4 dozen)
Ingredients:
4 cups all-purpose flour
1 cup sugar
½ cup whole milk
2 eggs, lightly beaten
1 Tbsp. baking power
¾ cup canola oil
1 Tbsp. almond extract (vanilla if you prefer)
Glaze:
3 cups icing (confectioners) sugar
1 Tbsp. almond extract (vanilla if you prefer)
2/3 cup hot water
Topping:
Rainbow sprinkles
Instructions:
Preheat oven to 375 degrees
Line cookie sheets with parchment paper
*In a large bowl, whisk together flour, baking powder, and sugar until combined.
*Make a well in center, add oil, milk, almond extract, and eggs. Using a wooden spoon, mix until all ingredients are well blended and smooth.
*Roll dough into 1–2-inch balls, try to get as uniform as possible. Place at least 1-inch apart on prepared cookie sheets. Bake for 10-15 minutes in preheated oven, until cookies are cooked through but not brown.
*In a small mixing bowl, whisk icing sugar with almond extract, adding hot water a little at a time. Glaze should be consistency of molasses.
*Place wire cooling rack over cookie sheet. Dip each cookie in warm glaze until well coated and top with sprinkles right away. Enjoy!