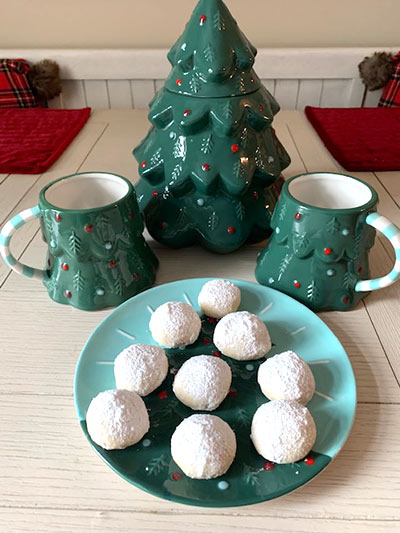 The Rosetti's Italian Wedding Cookies
(4 dozen)
Ingredients:
1 ½ cups butter, softened
¾ cup icing (confectioners) sugar
1 ½ cups finely ground almonds
1 Tbsp. vanilla extract
3 cups all-purpose flour
1/3 cups icing (confectioners) sugar for rolling
Instructions:
Preheat oven to 325 degrees
Line cookie sheets with parchment paper
*In a large bowl, cream butter and icing sugar together until light and fluffy. Add ground almonds and vanilla extract and blend. Gradually add flour and mix well.
*Roll dough into 1–2-inch balls, try to get as uniform as possible. Place on parchment-covered cookie sheet, at least an inch apart.
*Bake for 18-20 minutes, depending on oven. Cookies will remain white. If they brown, they'll be dry.
*Cool cookies and then roll warm in remaining icing sugar and place on wire rack to cool completely. When cook, dust with extra icing sugar. Enjoy!