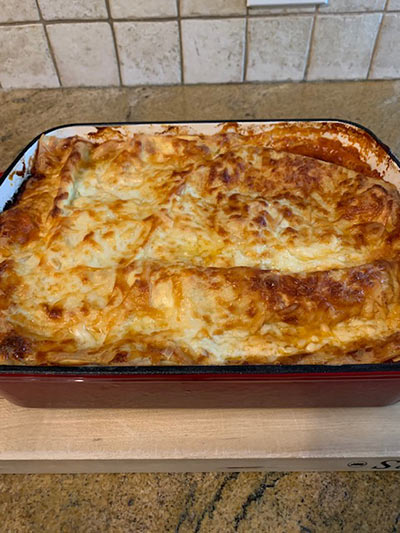 La Dolce Vita's Famous Lasagna
(Makes 10-12 servings)
Ragu Bolognese (ingredients and instructions below)
Pasta Dough (ingredients and instructions below)
Besciamella Sauce (ingredients and instructions below)
1 1/3 cups of Parmigiana Reggiano, grated
Ragu Bolognese
¼ cup of olive or canola oil
2 medium onions, finely chopped
3 ribs of celery, finely chopped
2 large carrots, peeled and finely chopped
6 garlic cloves, minced
1 pound ground veal
1 pound lean ground beef (you can use 2 lbs lean ground beef if preferred)
1 6-oz can of tomato paste
1 28-oz can blended tomatoes or tomato sauce if preferred
1 cup of whole milk
1 cup of dry white wine
Pinch of salt and pepper
In a large heavy-bottomed pot, heat the oil over medium heat until hot. Add the onions, celery, carrots, and garlic and cook for 5 minutes or until translucent. Add the ground meat, then increase the heat to high and brown, stirring frequently. Add the tomato paste, blended tomatoes, milk, and wine and bring to a boil, then reduce heat to medium-low and simmer for 1 to 2 hours. If you want to make ahead, you can refrigerate for 2 days or freeze for up to a month.
Besciamella Sauce
10 tablespoons butter
½ cup all-purpose flour
6 cups whole milk
1 teaspoon nutmeg
Pinch of salt
In a medium saucepan, melt butter over medium heats. Add the flour and stir until smooth. Cook, stirring, until light golden brown (6-7 minutes).
In another saucepan, heat the milk to just under a boil. Add the milk to the butter mixture 1 cup at a time, whisking constantly until smooth. Bring to a boil while continuing to whisk. Cook, whisking until thickened, about 10 minutes, then remove from heat. Season with salt and nutmeg. Transfer to a bowl and let cool, then cover and refrigerate until ready to use. It can stay in fridge for up to 3 days. If you choose to make in advance, reheat in a saucepan over low heat. Add milk if needed to make it to a pouring consistency.
Pasta Dough
If you prefer, you can use store bought—either dry or fresh.
3 ½ cups of all-purpose flour, plus extra for kneading
5 large eggs

Put the flour in a large bowl, make a well in the center and add eggs. Using a fork, beat the eggs together and then, starting from the inner rim of the well, bring in the flour. Once you have incorporated half of the flour, the dough will begin to come together and you can start kneading. Transfer your dough to a lightly floured board and knead for 10 minutes, dusting the board as necessary. The dough should be smooth and elastic. Wrap the dough in plastic wrap and let rest for 30 minutes.
Divide the dough into 8 portions and roll each one out. We use a pasta machine and put it through the thinnest setting. Lay the sheets on a lightly floured work surface and let dry for 10 minutes. Cut into lasagna-size strips and cover with a clean, damp kitchen towel.
In a large pot, bring 6 quarts of water to a boil, and add 3 tablespoons of salt. Set up an ice bath next to the stove and add 2 tablespoons of oil. Cook the noodles, 6 to 7 at a time in the boiling water until tender, about 1 minute. Transfer to ice bath to cool, then lay out on clean kitchen towels to drain.
Preheat oven to 375 degrees.
Assemble the lasagna in a 10-by-20 inch pan or use 2 9-by-12 inch pans. Spread the ragu over the bottom of the pan, sprinkle with parmigiano, top with a layer of pasta, a layer of Besciamella, another layer of ragu, a sprinkle of parmigiano, and then pasta. Repeat until all the ingredients are used. Finish with a layer of pasta topped with Besciamella and a sprinkling of parmigiana. At this point, lasagna can be tightly covered with heavy-duty foil wrap and kept in freezer for up to 3 months. Cook lasagna from frozen, using the times below.
Cover the lasagna in foil and bake for 45 minutes in preheated oven. Remove foil and bake uncovered for 20 minutes, or until golden brown. Enjoy!