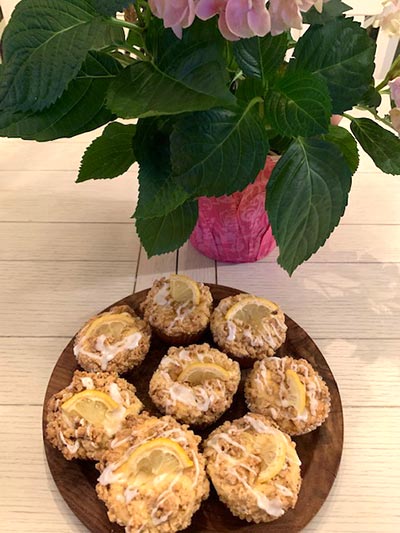 Lemon Cream Cheese Muffins
Ingredients:
Streusel Topping
1 cup all-purpose flour
1/4 cup golden brown sugar
1/4 cup granulated sugar
1/2 cup melted butter
Lemon Muffins
1 1/2 cups all-purpose flour
1/2 teaspoon baking powder
1/4 teaspoon baking soda
1/4 teaspoon salt
1/3 cup softened butter
3/4 cup granulated sugar
2 eggs
Zest of one lemon
2 tbsps lemon juice
1 tsp vanilla
2/3 cup Greek yogurt
Cream Cheese Filling
8 oz cream cheese—room temperature
1/4 cup granulated sugar
1 tsp vanilla
Glaze
3/4 cup powdered sugar
3 tsps lemon juice
Directions:
Preheat oven to 425F. Place paper liners in 12-cup muffin tin.
In medium-sized bowl, stir together flour, golden brown sugar, and granulated sugar, then add melted butter and whisk until crumbs form. Set streusel topping aside.
In large bowl, whisk flour, baking powder, baking soda, and salt together. Set dry muffin mixture aside.
In a separate bowl, beat softened butter and sugar together at high speed for three minutes. Then add eggs, lemon zest, and vanilla and mix for 2 minutes. Add Greek yogurt and lemon juice and mix until combined. Slowly add your dry mixture to this on low speed.
In another bowl, blend softened cream cheese, sugar, and vanilla on medium speed for two minutes.
Place one tablespoon of muffin mixture in each paper lined cup and then drop a tablespoon of cream cheese filling in center of each muffin. Cover cream cheese filling with the rest of the muffin mixture and then generously top each one with streusel.
Place in preheated oven and reduce heat to 350F. Bake for 22-25 minutes or until muffins are golden brown and the center has set. Cool 5-10 minutes in pan and then transfer onto a rack to cool completely.
While muffins are cooling, make the glaze. Stir lemon juice 1 tsp at a time into powdered sugar until you get desired consistency. Drizzle over muffins and enjoy!