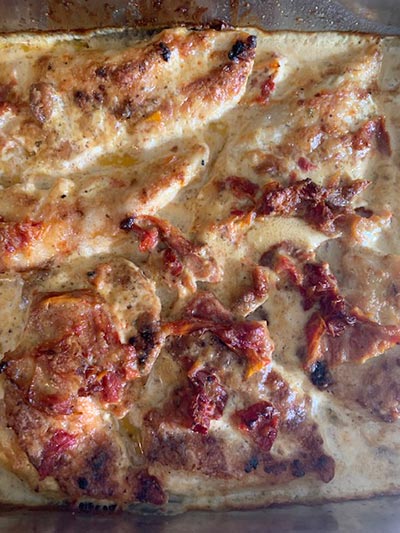 Marry Me Chicken
(Serves 10)
Ingredients:
6 large boneless, skinless chicken breasts sliced to make thin cutlet. You should end up with at least 12 pieces as well as several smaller fillets.
1 tsp salt
1 tsp pepper
1 cup all-purpose flour
¼ cup oil
¼ cup butter
4 cloves of garlic, minced
2 ½ cups chicken stock
2 ½ cups whipping cream
1 cup parmesan cheese
2 tsps. chilli flakes
1 tsp Italian seasoning
2 tsps. chili flakes
1 small jar sundried tomatoes in oil, chopped
1 tbsp fresh basil leaves, chopped
Directions:
Whisk salt and pepper in flour then dredge chicken breasts in mixture to coat.
In a large frying pan, heat oil and butter on medium and sauté garlic. You can also add some of the oil from sundried tomatoes as you fry chicken in batches.
Brown the chicken until golden on both sides, 4-5 minutes per side, ensuring the chicken is cooked through. Transfer into baking dish. You might need two.
Add chicken stock and deglaze the frying pan, using wooden spoon to scrape bits off bottom of pan.
Lower heat to medium-low and add whipping cream and parmesan cheese. Allow the sauce to simmer for 5 minutes, stirring, then add chili flakes and Italian seasoning.
Add chopped sundried tomatoes, then let simmer for a few minutes while stirring.
Pour sauce over chicken in baking dish. You can prepare to this point, let cool, and then cover and put in fridge for up to 24 hrs. Take out of fridge and let sit for 30 minutes before sprinkling with chopped basil leaves, then put uncovered in a 350-degree oven for 45 minutes.
If you want to serve right away, sprinkle with chopped basil leaves and put in the oven uncovered for 30 minutes at 350.
Serve with pasta or rice, or in this case, gnocchi. Enjoy!