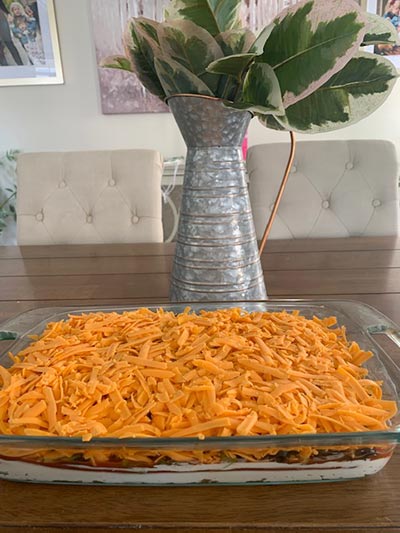 Layered Nacho Dip
Ingredients:
2 pkgs cream cheese (softened)
2 cups sour cream
1 Tbsp taco seasoning (optional)
1 jar salsa (2 cups)
4 green onions thinly sliced
2 avocados peeled and thinly sliced
1 cup sliced black olives
1 cup sliced green olives
4 cups medium cheddar cheese (grated)
Directions:
In medium mixing bowl, beat cream cheese until smooth and creamy.
Add sour cream and taco seasoning.
Spread cream cheese mixture in 9x13 baking dish.
Evenly spread salsa over cream cheese, and then cover with sliced green onions, avocados, black olives, and green olives. Top with grated cheddar cheese. Refrigerate for an hour. Enjoy!