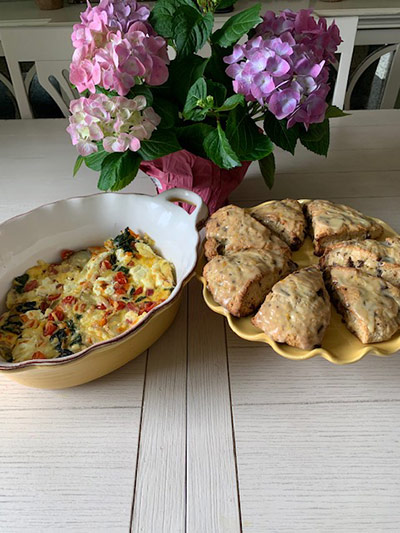 Chocolate Chunk Orange Scones with Orange Glaze
Ingredients:
2 cups all purpose flour
2 tsps. baking power
¼ cup granulated sugar
½ tsp salt
¼ cup cold, salted butter, cut into cubes
2 tbsps. orange zest
4 oz chopped semi-sweet chocolate
1 cup cold whipping cream
Glaze
1 cup powdered sugar
2 tsps. orange zest
3 tbsps. orange juice
Instructions:
Preheat oven to 425 degrees. Line a baking sheet with parchment paper and set aside.
In a large bowl, whisk together the flour, baking powder, granulated sugar, and salt. Cut the butter into the mixture using a pastry cutter or a fork until the mixture resembles coarse sand—I use my fingers. Add the orange zest and chocolate.
Add the whipping cream. Mix the dough together. It will have a slightly dry consistency. Knead the dough in the bowl for 1 minute.
Transfer the dough to parchment covered pan and form a round, approximately 1 inch thick. Use a knife or pizza cutter to cut into 6 equal pieces. Arrange the pieces on the baking sheet about an inch apart. Bake for 15-20 minutes, or until the scones are golden and the edges lightly toasted.
Glaze
In a bowl, whisk together the powdered sugar, orange zest, and orange juice until smooth. Drizzle glaze on top of warm scones. Serve and enjoy!