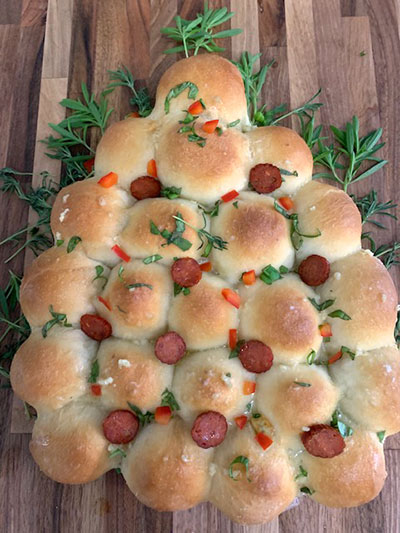 Christmas Tree Pull-Apart Bread
Ingredients:
Store bought pizza dough—or make your own
4oz softened cream cheese
7 oz container basil pesto—or make your own
1 cup shredded mozzarella cheese
2 tbsps. melted butter
1 minced garlic clove
Red pepper for decoration
Mini pepperoni for decoration
Rosemary sprigs for decoration
Instructions:
Roll out store-bought pizza dough--or your own—and cut into 36 squares. I think I should have rolled mine thinner. Then mix together 4 oz of softened cream cheese, a 7oz container of basil pesto, and a cup of shredded mozzarella cheese. Place a spoonful of cheese and pesto mix on each square then seal end and shape into a ball and place sealed-side down in the shape of a tree on a parchment-covered baking sheet. Bake at 400 for 15 minutes, mine took 22 minutes, then take out of oven and brush with 2 tablespoons of melted butter and 1 minced garlic clove. Decorate with red pepper, mini pepperoni, and rosemary sprigs. Enjoy!