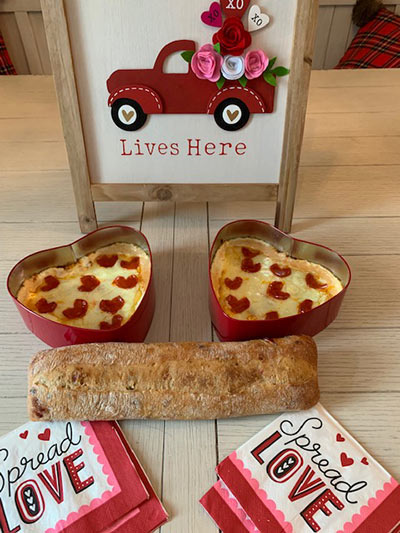 Pizza Dip
Ingredients:
8oz softened cream cheese
½ cup sour cream
2 minced cloves garlic
1 tsp Italian seasoning
1 cup grated mozzarella cheese
½ cup grated mozzarella cheese, reserved for topping
½ cup parmesan cheese
¼ cup pizza sauce or marinara sauce
18 pces pepperoni (cut in heart shape with scissors)
Instructions:
Pre-heat oven to 400 degrees.
In a medium bowl, combine cream cheese, sour cream, garlic, Italian seasoning, mozzarella cheese, and parmesan with hand mixer until well blended.
Spoon mixture into broiler-safe 1 quart baking dish or two small pans like I used.
Top with pizza sauce or marinara sauce, sprinkle with reserved mozzarella, and then top with pepperoni.
Bake for fifteen minutes, or until cheese is bubbling and beginning to brown. If needed, broil 1-2 minutes. Let rest before serving. Serve with baguette. Enjoy!