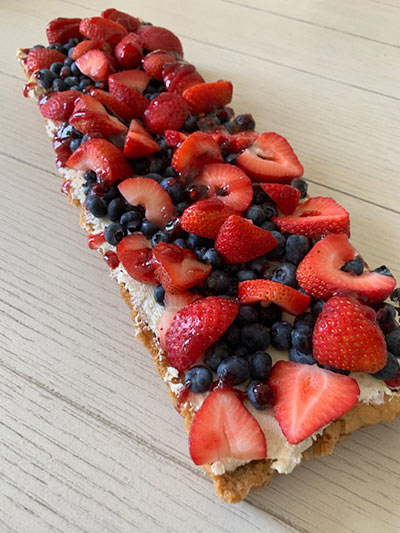 Recipes from Highland Falls
Abby Everhart's Berry Tart
(adapted from "Women's World" Magazine 08.19)
1 8 oz. pkg cream cheese
½ cup sugar
1 tsp grated orange zest
¼ cup milk
2 cups thawed whipping cream
¼ cup unbleached flour
¾ of 16.5 oz pkg. refrigerated sugar cookie dough (couldn't find and made own)
2 cups sliced strawberries
1 cup blueberries
You can also add 1 cup raspberries
½ cup strawberry jam melted
*For 2 minutes, or until smooth, beat together cream cheese, sugar, and orange zest. Beat in milk on low until blended. Fold in whipped toping. Cover and chill for 2 hrs.
*Preheat oven to 350 F. Grease 10 ½" x 7" tart pan with removable bottom. Knead flour into cookie dough until just blended; press into bottom and up sides of pan. Grease 13" x 10" sheet of foil on one side. Place over dough, greased side down; fill with dried beans or pie weights. Bake 15-20 minutes until lightly browned. Remove foil and beans. Bake tart shell 5-7 minutes, until baked through. Cool.
*Spread cream cheese filling into tart shell. Cover and refrigerate overnight. Before serving, in bowl, combine berries and sprinkle over tart. Spoon melted strawberry jam over berries.