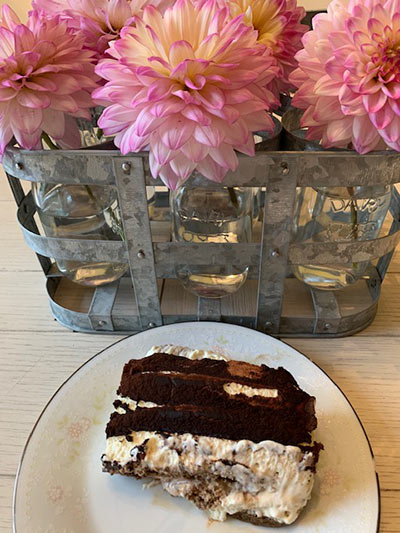 Zia Maria's Tiramisu
Ingredients:
6 egg yolks
¾ cup white sugar
½ cup milk
1 ½ cup heavy cream
1 tsp vanilla
1 lb mascarpone cheese—room temperature
½ cup expresso or 1/2 cup strong brewed coffee—room temperature
4 tbsps rum
2 packages ladyfinger cookies
1 tbsp unsweetened cocoa powder
Directions:
In a saucepan on medium heat, whisk egg yolks and sugar until well blended. Stirring constantly, whisk in milk and cook until mixture boils. Boil for 1 minute. Remove from heat and allow to cool for approximately 5 minutes. Cover tightly with plastic wrap and chill in refrigerator for 1 hour.
In a medium bowl, beat heavy cream with vanilla until stiff peaks form.
Whisk mascarpone cheese into egg yolk mixture until smooth.
In a small bowl, combine coffee and rum. Drizzle mixture over ladyfingers.
Arrange ladyfingers in bottom of 7 x 11" baking dish. Spread half of mascarpone mixture over ladyfingers, then spread half of whipped cream on top. Repeat layers, then sprinkle with cocoa. Cover and refrigerate for 24 hours. Enjoy!