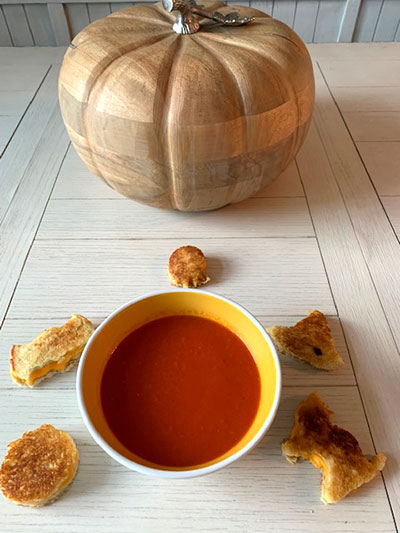 Tomato Soup
(Serve with grilled cheese sandwiches, use Halloween cookie cutters to shape)
Ingredients:
3 tbsps. light olive oil
1 medium yellow onion, diced
3 garlic cloves, minced
1 can (28 oz) diced tomatoes, drained of liquid
2 jars (24 oz ea=6 cups) pureed/strained tomatoes
1 container (900 ml) store-bought vegetable broth or 4 cups homemade
2 tbsp sugar
1 tbsp salt
1 tsp pepper
1 lemon
1 tbsp. butter
½ cup cream or whole milk
Directions:
In large size pot on medium heat, sauté diced onion and minced garlic in olive oil until softened and translucent.
Add diced tomatoes, sauté 5 minutes.
Add 6 cups (2 24 oz jars) pureed/ strained tomatoes, then add 4 cups vegetable broth (900 ml), stir to combine.
Add sugar, salt, pepper, and juice of one lemon, stir to combine.
Blend batches of soup in blender until smooth and return to heat.
Bring to almost a boil and then turn heat to medium-low and add tbsp butter and cream/whole milk, stir well and serve warm. Enjoy!