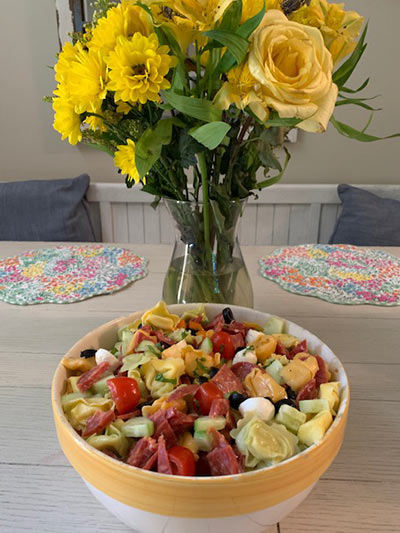 Tortellini Pasta Salad
Ingredients:
24 oz bag of refrigerated cheese tortellini, 3 cups
1 English cucumber peeled, sliced, and quartered
1 pint cherry or grape tomatoes, halved
1 8oz can sliced black olives, drained
1 yellow pepper, chopped
1 cup mozzarella, cubed
1 cup salami, cubed
3/4 cup favorite Italian dressing, store bought or homemade
Instructions:
Cook tortellini in salted water according to package.
Rinse with cool water, drain, and place in large serving bowl.
Pour half dressing on warm pasta.
Add remaining ingredients to tortellini.
If serving within the hour, toss with desired amount of remaining dressing.
Refrigerate for at least 30 minutes before serving. Enjoy!