Driftwood Cove
Book 5 in the Harmony Harbor series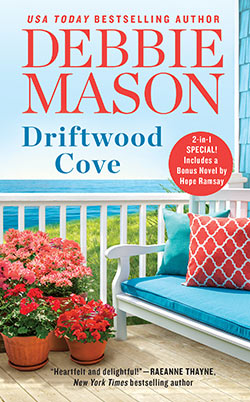 February 20, 2018
TWO STORIES IN ONE: AN ALL-NEW DEBBIE MASON NOVEL PLUS A FAIRYTALE BRIDE NOVELLA BY USA TODAY BESTSELLING AUTHOR HOPE RAMSAY
True love deserves a second chance....
FBI agent Michael Gallagher never dreamed that his job would bring him back to his hometown of Harmony Harbor. Or that one of his best leads would be the woman he once loved. Hell, the woman he still loves. He regrets the way they ended, and he'd do anything to make things right with her now. But first he needs to regain her trust...
Shay Angel wants to leave the past behind her. And that includes Michael Gallagher, the only man she ever let close enough to break her heart. But she needs his help to find her uncle and clear his name. She won't hesitate to risk everything to save her family, but will she dare to risk her heart all over again?
BUY THIS BOOK
What People Are Saying
"Hands down, this is one of the best stories that I have read in awhile."
~ Touch My Spine Book Reviews
"Wonderfully written, action packed and filled with character and emotional driven scenes that have you root Michael on in getting his one true love back in his arms while trying to help her not fall into a situation that could cost her her freedom and her uncle's as well."
~ hello-booklover
"Overall, a stellar installment to the Harmony Harbor series."
~ Lampshade Reader
"Add in a stripper with a heart of gold, a few bad-ass FBI agents and the doings at Graystone manor and you have a rollicking afternoon of entertainment. I really enjoy this series and it seems to get better with every installment."
~ Blonde Betty