Primrose Lane
Book 3 in the Harmony Harbor series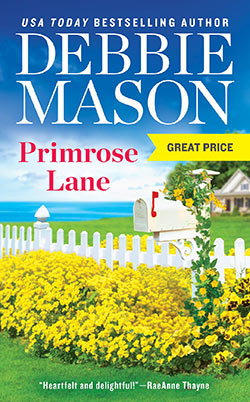 June 27, 2017
Love is the best medicine.
Olivia Davenport has finally gotten her life back together. She's left her painful past behind, started over in a new town, and become Harmony Harbor's most sought-after event planner. But her past catches up to her when Olivia learns that she's now guardian of her ex's young daughter. With her world spinning, Olivia must reconcile her old life with her new one. And she doesn't have time for her new next door neighbor, no matter how handsome he is.
Olivia may act like she's got everything under control, but Dr. Finn Gallagher knows a person in over her head when he sees one. He'd really like to be the shoulder she leans on, but Olivia makes it clear she doesn't want his help. Since he's returned to town, his waiting room has been full of single women feigning illness. Yet the one woman he's interested in is avoiding him. But with a little help from some matchmaking widows and a precocious little girl, Finn might just win Olivia over.
BUY THIS BOOK
What People Are Saying
"If you love your contemporary romance stories with lots of charm, heart, and humor, Primrose Lane is the perfect book to pick up and read. It's fast-paced, thoroughly addicting, and highly entertaining. I couldn't put it down!"
~Okie Dreams Book Reviews
"Wow, do these books bring the feels. Deep emotion, heart-tugging romance, and a touch of suspense make them hard to put down while the humor sprinkled throughout keeps the emotional intensity balanced with comic relief."
~The Romance Dish
"No one writes heartful small town romance like Debbie Mason and I always count the days until the next book!"
~The Many Faces of Romance
"This is a book worth savoring as it has all the elements of a fantastic read."
~RT Book Reviews
"The book is full of wonderful lovely moments but also the intrigue is strong, and more mysteries start to appear. Harmony Harbor is a place where it seems everyone has a secret past and I can't wait to find out more."
~BookWorm 221
"I have enjoyed the past 2 books in the series, however I think that this has become my favourite. Those Gallagher brothers sure do know how to get those hearts afluttering."
~BJ's Book Blog
"This was a very moving and enjoyable story that left my heart happy! It had the perfect blend of everything you'd want in a romance story, it was heartwarming, funny, sweet and packed with sizzle!"
~Red's Romance Reviews
"…a great, heartwarming story that will have you crying one minute, and spiting out your drink with laughter the next."
~Romancing the Reader
"Debbie Mason's Primrose Lane is a heartfelt second chance story . . . The small town setting, the unique characters and the witty and honest dialogue appealed to me and I read the novel in one afternoon."
~Lady Celeste Reads Romance
". . . this wasn't a typical contemporary romance. There was a little mystery involved and some villainy to make this romance a little more interesting and spellbinding."
~My Reading Journey
"Harmony Harbor is one of my top five favorite series. Between the goings on at the Manor, so many secrets all over town and in the family, and just . . . one minute you're laughing, the next you're pretending you have something in your eye."
~Once Upon a Book
"Overall, Primrose Lane was amazing. I loved the world of Harmony Harbor and all of the characters that reside there. This book made me laugh, cry, and swoon... All at 3 o'clock in the morning...."
~Crystal Blogs Books